20/06/23 • 14:45
Welcome to the Olive Oil Monthly market update powered by Certified Origins. We will provide you with relevant and transparent information on Extra Virgin Olive Oil (EVOO) and Olive Oil (OO) trends to help you navigate the market.
Author: Franziska Finck
WHAT IS HAPPENING THIS MONTH
Most of Spain finally experienced some rain in June. The news of the long-awaited precipitation spread some optimism over the future and helped for a short moment to interrupt the price spike experienced in the past semester.
Doubts remain if the recent rainfalls will be enough to help the Spanish olive orchards recover from the extended periods of drought and high temperatures in sight of the new harvest.
The low Olive Oil stocks available in Europe and a stable demand leave no room for a downright trend in trading prices, all the opposite: prices keep increasing also in June.
MARKET TRADE OVERVIEW FOR EVOO
According to Poolred, a well-known Spanish organization engaged in the "Promotion and Development of the Olive Grove and Olive Oil" local Extra Virgin Olive Oil grade traded on an average at 6.00 Eu/Kg during May, today's EVOO price has reached a record level of 6.43 Eu/Kg.
ISMEA, the leading Italian organization monitoring agricultural commodities, reports similar values from all other significant olive oil-producing regions in the Mediterranean area for the same period.
Greece: 6.30 Eu/Kg (+ 6% vs last week)
Tunisia: 6.18 Eu/Kg (IDEM vs last week)
Italy: 7.01 Eu/Kg (+ 2,7% vs last week)
If we compare the current prices at the source with June 2022, we can observe how Spanish, Greek, and Tunisian Evoo increased in value by approximately 75% and Italian by 55%.
The price gap between Italy, historically among the most prized fats in the market, and the other origins has gradually reduced due to the unprecedented growth in cost from Tunisian and Spanish oils combined with a progressive decline in demand for Italian Evoo.
While these numbers are a valuable tool for understanding macro-trends, it is important to mention that quality, organic, and pesticide-free oils trade with at least a +0.50 Eu/Kg premium over the average costs and that one to two weeks delay can occur between the actual market conditions and official reports.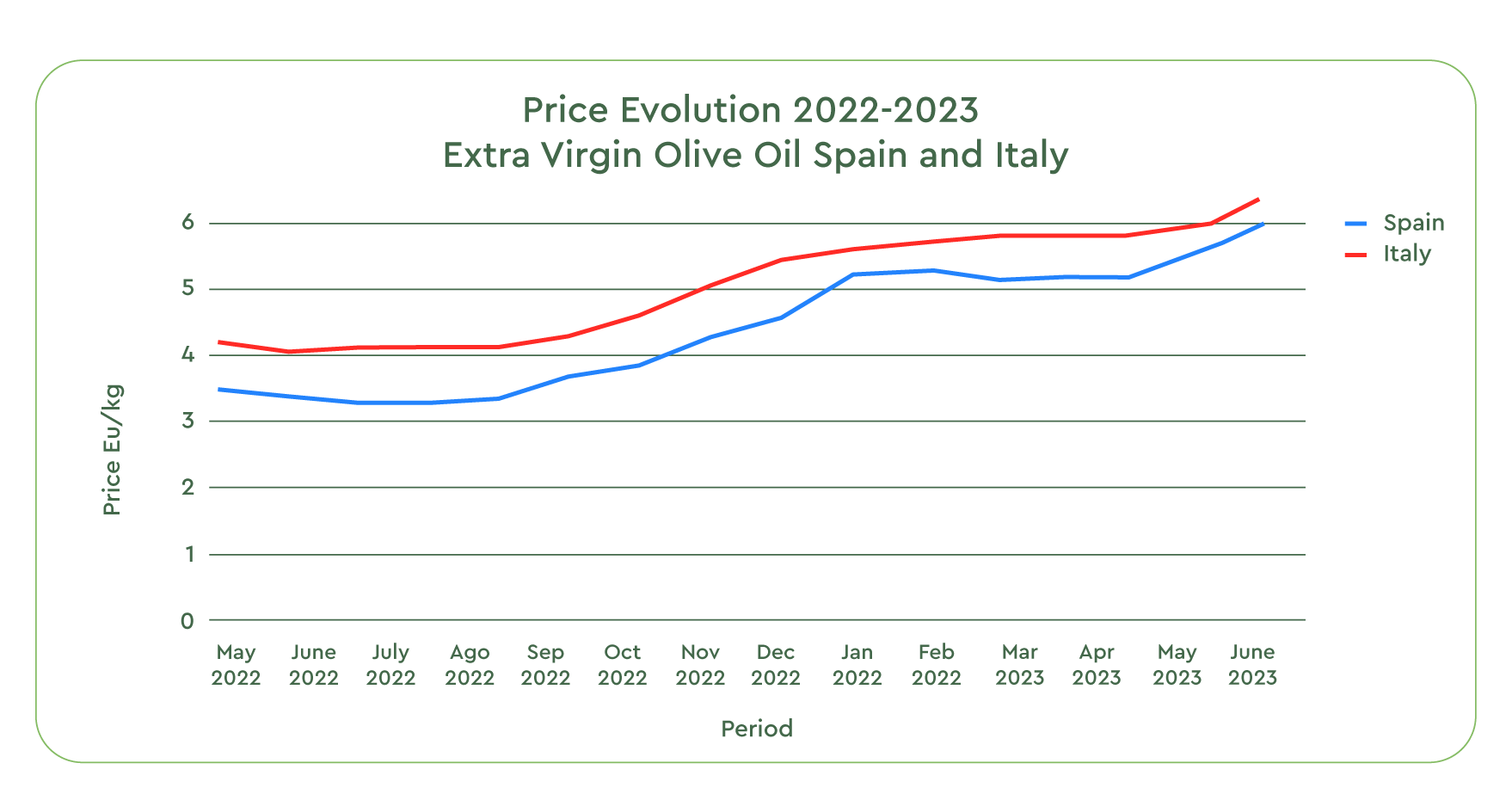 LACK OF WATER IN SPAIN
Andalusia, Spain's largest olive-growing region, reports scarce water reserves, despite the recent rainfalls, which raises serious concerns about whether the reservoirs will be sufficient to irrigate the olive plantations during 2023.
The local reservoirs for this area this past June 12th were at just 27% of the total capacity. In the same period in 2022, the levels were at 34%, well lower than the average 60% value for the last 10 years. In Cordoba, Jaen, and Granada, water reservoirs are currently at 18% of capacity, considerably below the 59% average of the last 10 years.
Overall, Spanish olive trees, production, and yield quality, especially for the super-intensive groves, will have to rely heavily on natural precipitation.
WORLDWIDE PRODUCTION: EUROPEAN PESSIMISM AND USDA OPTIMISM
According to most European Olive Oil trade magazines and specialized sources, the general expectation of global crop levels and market prices for the upcoming harvest season remains pessimistic, mainly driven by the news coming from Spain.
In an article published by the Olive Oil Times at the beginning of June, the USDA (United States Department of Agriculture), on the other hand, expects a more optimistic output, with an expectation of 3,200,000 Tons of Olive Oil from 2023/24 global crop, equal to a +30% growth. The USDA projections only show the volumes from the EU as a whole and not that of the individual producing countries.
Nevertheless, to meet USDA´s crop projections, even if Italy, Tunisia, and Portugal will deliver substantial volume growth,  Spain, as a historical contributor to 50% of the global Olive Oil production, would need to exceed the 1,000,000 Tons mark.
REMAINING STOCK
While Spain's Olive Oil reserves are reported monthly by AICA (Spanish Department of Agriculture), it is difficult to find accurate numbers from other Mediterranean countries.
According to the latest figures published by AICA, Spanish producers released more than 80.000 Tons to the market in June, a surprisingly high number, considering the high Eu/Kg value.
The total amount of oil available stock is only 526,619 Tons. Considering that October is usually a month with very low production, Spain needs to manage its stocks very well for the next 5 months.
For comparison: last year in May 2022 Spain had a remaining stock of 949,400 Tons, 44 % more compared to May 2023.
Italy reported a reserve stock of only 255,181 Tons at the end of May, which is a value 18% lower compared to 2022 during the same period.
As we enter the second half of 2023, local and global producers and traders are increasingly aware of the low volumes of Extra Virgin Oil and Refined Oils available on the market, making long-term planning challenging for small and big players.
FINAL THOUGHTS
In a typical year, Spanish producers would be pleased to see that high market prices had a limited impact on the demand for their products. Yet, the sustained level of consumption, combined with the decreasing stocks available in all producing countries and the low levels of water reserves in Spain, cast a shadow on 2024 availability and trade trends.
Today all eyes remain focused on Spain and the possibility of additional rain. Favorable weather will help the biggest player in the Olive Oil industry to maintain a positive outlook for the future and create the conditions for a down-trend in prices at the origin, globally.
Our sourcing teams are visiting our partners and fields in Turkey, Italy, Morocco, Portugal, California, and Spain to see first hand the health of the groves and hear the concerns and hopes of farmers and mill managers. We will share their findings with you in our future reports. In the meantime, please reach out to talk with our team of experts, and share any question or comment you may have.
Sources:
Olimerca
Olive Oil times
Spanish Ministry of Agriculture
Embalses.net
Teatronaturale
Poolred
Ismea
Back to blog