21/07/23 • 12:01
Welcome to the Olive Oil Monthly market update powered by Certified Origins. We will provide you with relevant and transparent information on Extra Virgin Olive Oil (EVOO) and Olive Oil (OO) trends to help you navigate the market.
Author: Franziska Finck
WHAT'S HAPPENING THIS MONTH?
Despite the high prices, sales are not slowing down, and June surprises again with high traded volumes. Market prices keep rising daily and reach unprecedented levels. The main concern remains the low availability of Olive Oil in the market. For the first time in history, Spain will start the new campaign in October 2023 without any stock of Olive Oil remaining from the previous year—a scenario of uncertainty fueling tension at every step of the supply chain.
MARKET OVERVIEW FOR EVOO
The well-known trade organizations Poolred (Spanish) and Ismea (Italian) reports released the following market prices this week:
Spain: 7.67 Eu/Kg (Poolred)
Italy: 8.19 Eu/Kg (Ismea)
Greece: 7.73 Eu/Kg (Ismea)
Tunisia: 7.53 Eu/Kg (Ismea)
This is a value increase of approximately 22% higher versus last month and even 90% to 120% compared to the previous year's prices.
Both reports help us understand macro-trends and average prices without capturing the many nuances of different quality levels and profiles that a buyer would have to face during an actual transaction.
Our sourcing team is constantly monitoring the market for export-quality Extra Virgin Olive Oils. When this report was released, we observed transactions going for up to 8.25 Eu/Kg for Spanish conventional and over 8.50 Eu/Kg for Spanish organic.
Italian conventional prices have reached 9.50 Eu/Kg and 9.80 Eu/Kg for organic, Greece 7.90 Eu/Kg for conventional, and 8.10 Eu/kg for organic.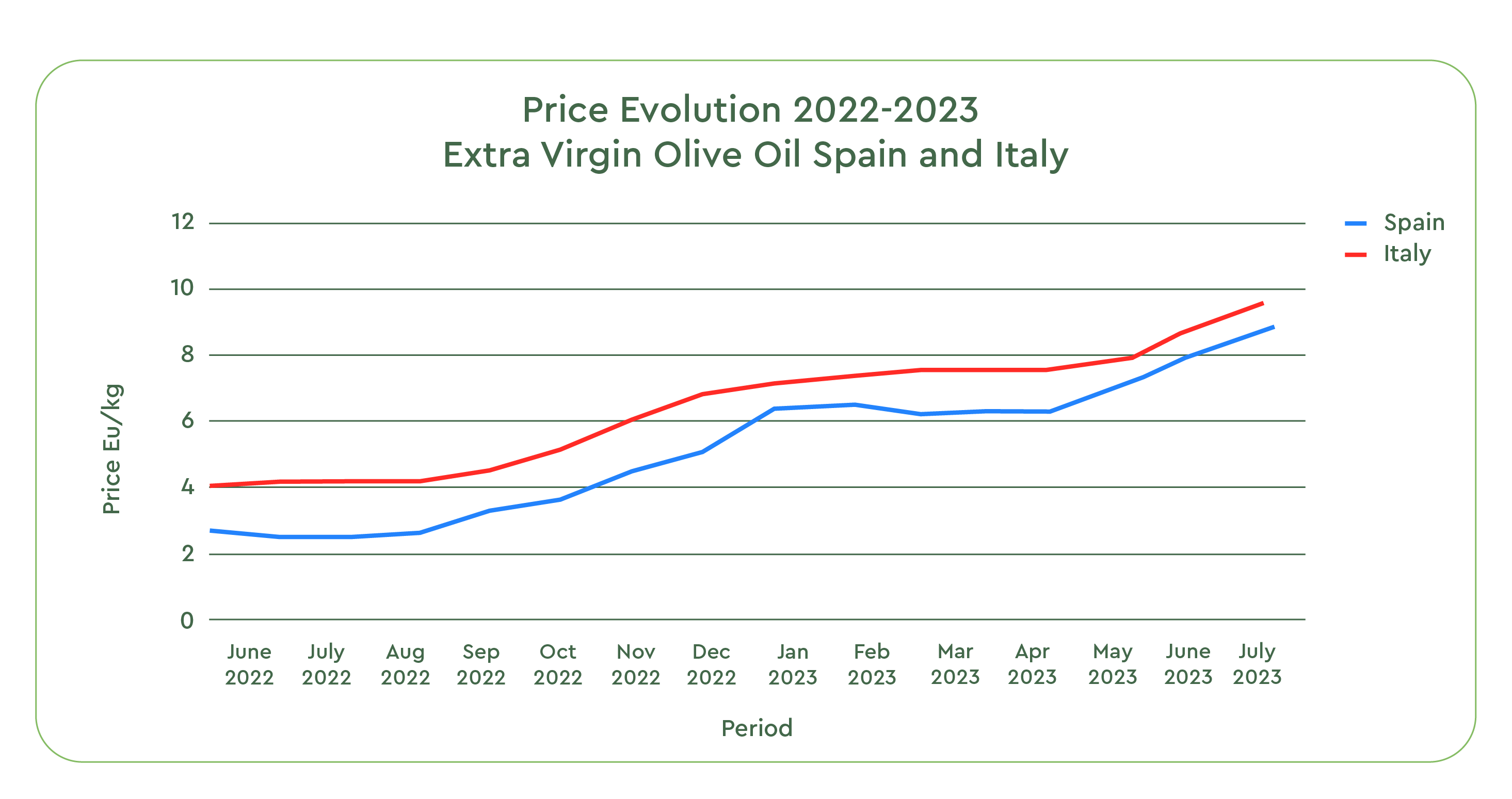 REMAINING STOCK: SPAIN'S THIN BALANCE FOR JULY
The experts betting on high prices slowing down the demand had to re-consider their projections.
According to the latest figures published by AICA (Spanish Department of Agriculture), Spanish Olive Oil producers released 85,400 Tons into the market, of which approximately 12,000 Tons are oils imported from other countries. This number is only slightly below the monthly average of 90,000 Tons released this year.
The June 2023 balance sheet in Spain shows a drastic reduction in olive oil reserves compared to the same period in the previous year. At the end of June 2023, the available stock was 457,000 Tons, a value 43% lower than in June 2022.

Note: Numbers are rounded and represent 1000 Tons.
It is worth mentioning that from the 457,000 Tons, 204,000 Tons (46%) are stored in oil mills and available to the market, while industrial packers keep 245,000 Tons (54%) to support their existing food programs: making the actual number of liters available for trading even lower.
At the same time last year, the oil mills and cooperatives held 66% of the remaining stock, while the industrial packers held just 34%.  These figures tell us that the leading Olive Oil players secured as much volume as possible to minimize potential shortages and prepare to transition to the new crop.
Assuming that a sizable amount of this remaining stock of Olive Oil has been locked into contracts already (yet to be shipped) if the market demand will not slow down in the next four months, the math tells us that Spanish producers and packers will soon be running out of inventory.
GOOD PROSPECTS FOR TUNISIA
Our sourcing team just returned from a tour of the main producing regions in Tunisia's central and southern parts. This trip allowed them to observe the trees' conditions and hear about the upcoming crop directly from farmers, experts, and producers.
Tunisia's main olive variety is Chemlali, mainly grown in the middle and southern areas of the country. Thanks to the recent rains, Tunisia expects another good harvest, projected to reach up to 220,000 Tons, in line with the past year.
With Spain leaving ample gaps in the market, Tunisian producers are investing in new production lines and storage capacities. All elements indicate that this North African country is on the right path to solidifying its leading position and becoming an essential player in the global Olive Oil market for years to come.
FINAL THOUGHTS
All figures indicate that Spain, traditionally contributing to 50% of the global olive oil production, will start the new harvest with extremely low or flat olive oil reserves, making the new crop's results crucial for the stability of the entire market.
From today's perspective, the upcoming Spanish harvest will be another challenging one. Andalusia's regional water reservoirs are only 25% full. Without rain before September, the Spanish government will have to regulate water consumption heavily, to support farmers and the food supply chain as a whole.
The new harvest is set to start officially in October 2023, making the first volumes of olive oil potentially available for sale only in November. If this scenario becomes a reality, there will be a few months in 2023 in which Spanish producers and traders will not be able to release any oil in the market for the first time in its history. An unprecedented event for the country, and bad news for the global supply.
Global players are already trying to anticipate the market and secure volumes for 2024. Buyers are confronted by very cautious producers with limited volumes to offer, and fewer incentives to lock into long-term contracts, hoping for further price growth.
In this scenario, any short-term improvement in the market will be unlikely to happen.
Our sourcing teams are intensifying their visits to all producing countries, collecting information, and strengthening relationships for the difficult months ahead. We will keep sharing with you their findings in market reports.
In the meantime, please contact our team of experts and share any questions or comments you may have.
Sources:
Olimerca
Spanish Ministry of Agriculture
embalses.net
Poolred
Ismea
Back to blog