15/07/22 • 9:30
Welcome to the Olive Oil Monthly market update powered by Certified Origins. We will provide you with relevant and transparent information on Extra Virgin Olive Oil (EVOO) and Olive Oil (OO) trends to help you navigate the market.
WHAT IS HAPPENING THIS MONTH
New pessimistic forecasts on the upcoming harvest are creating waves in the European Extra Virgin Olive Oil market, which is starting to trend up after a period of relative stability.
The ongoing high demand for entry-level quality oils, including olive oil – mainly destined for the refineries – has triggered prices, particularly for lampante and virgin oils. 
REFINED AND LAMPANTE OIL
Olimerca, a Spanish trade magazine specializing in Olive Oil, recently observed that Lampante sales are surprisingly high compared to Extra Virgin Olive oil transactions, a trend diametrically opposite from what farmers and olive oil producers experienced historically.
Today, the price for lampante oil has reached a level of an unprecedented 3.45 Eu/Kilo. This week the demand for lampante oil in Spain was so high that producers decided to pause trade transactions to observe the evolution of the market in perspective of the upcoming new harvest. 
NEXT HARVEST UNCERTAINTY
Olive growers and producers are sharing concerns over the persistent drought affecting many of the production countries in the Mediterranean. In a similar scenario often experienced by farming communities in California, local European authorities are now limiting the volumes of water available for irrigation.
For this reason, many Olive Oil farmers fear a dramatic drop in crop yields, especially those engaged in intensive and super-intensive farming, requiring artificial irrigation. Europe, the largest Olive Oil producer in the world, is experiencing multiple hot waves with temperatures above 40C degrees (104F), combined with very low expectations for rain until September. Water plays a crucial role in the development of the olives, and only an abundant autumn rain season could help correct a possibly negative outlook.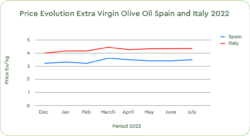 MARKET TRENDS
Due to the tensions generated by weather and negative production forecast, some European players started their purchasing campaigns earlier than usual. Their goal is to acquire volumes from the previous harvest to be blended into new harvest oil and to prepare against possible upward fluctuations in prices at the origin. Non-European importers from countries outside the producing areas remain hesitant, waiting to have a clearer picture by August. 
FINAL THOUGHTS
With two and a half months to go until the start of the new harvest, the general feeling in the Olive Oil sector is that prices won't trend down any time soon. Factors such as inflation, increasing production, energy costs, and the political situation in the Ukraine / Russia conflict will affect the market for the rest of the year.
We recommend to talk closely with your sourcing expert to be always up-to-date on the market. We will continue monitoring trends for you and sharing our projections and news about any changes. Feel free to reach out to talk with your team of sales experts for any additional question or comment you may have.
Sources:
Olimerca
Olive Oil times International
Olive Oil Council 
Back to blog