20/12/22 • 9:30
Welcome to the Olive Oil Monthly market update powered by Certified Origins. We will provide you with relevant and transparent information on Extra Virgin Olive Oil (EVOO) and Olive Oil (OO) trends to help you navigate the market.
WHAT IS HAPPENING THIS MONTH
The low availability and high demand spiral continues to heat the Olive Oil and Extra Virgin Olive Oil market.
Despite being historically the country with the most significant volumes, Spain trades Extra Virgin Olive Oil at 5.50 Eu/kg conventional and 6 Eu/kg organic. A nearly 60% average increase when compared to the same period last year.
Italian Extra Virgin Olive Oil is historically the most valued origin by the market, and this year makes no exception: conventional is trading at 6.20- 6.35 Eu/kg. At the same time, Organic Extra Virgin Oil peaked at 6.70 E/kg.
Tunisia follows the trend with 5.25 E/kg for conventional and 5.50 E/kg for organic. These values have never been observed for this region, marking a milestone for an area with a growing global reputation for volumes and quality.
The recent rains in some areas of the Mediterranean area could give hope for the stabilization of prices in the coming months. So far, only the lowest grade of Oil, Lampante, has slowed down. Despite the sharp and fast increase in cost observed at the origin across the Olive Oil category, a drop in demand is not yet in sight, lowering the hope for some market improvement in the short term.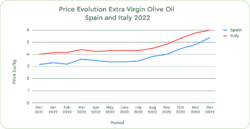 Sources: Poolred, Ismeamercati
WEATHER IN SPAIN
The recent rain in Spain will help the olive trees to recover after a torrid summer. With the immediate reality of a disappointing harvest, farmers and cooperatives in the south of Europe are looking at the following spring and summer, hoping for an abundance of flowers, healthy soil, and lush leaves as markers for a promising future harvest.
Unfortunately, too much rain at the wrong time will slow the ongoing harvest operations, creating potential humidity, molds, and defects in the limited amounts of olives available for the mills.
Spain in November reported production of 167.089 Tons, showing a reduction of 42% vs. November 2021 (288,600 TN). The second month of the last five campaigns with the lowest outputs ever recorded.
POSITIVE NUMBERS FROM IRAN AND TURKEY
While most of the Mediterranean countries are struggling with poor harvest expectations, positive reports are coming from Iran and Turkey.
According to a recent article in the Olive Oil Times, Iran could produce 17.000Tn of Olive Oil (vs. last year's approximate 12.000Tn). Upcoming investments in additional and modern olive plantations will undoubtedly help this country's positive trend in harvest expectations in the coming years. In our previous report, we reported Turkey's production increase of 50%, with a total harvest estimate of approximately 420.000 Tn this year.
The contribution from Turkey, Iran, and Greece will not be sufficient to compensate for the disappointing harvests in core-producing countries like Spain, Tunisia and Italy.
FINAL THOUGHTS
Olive Oil is a millinery trade and a gift from the olive trees we give for granted harvest after harvest. A challenging year is coming to an end, in which drought, fires, and political geographical crises have coincided, dragging the olive oil market into a chaotic situation.
The effects of the climate on the food supply chain will continue to have far-reaching consequences for farmers, producers, and families. This year will remind us of the importance of protecting the environment. In Certified Origins, we will use 2023 to grow and expand our existing sustainable practices, selecting partners aligned with our values.
Producers, buyers, and retailers must work closely to navigate this difficult season, preparing for 2023 with several open question marks. The rising prices at the origin have yet to reach the end consumer, with multiple possible scenarios affecting positioning and consumption. The lack of offers and sustained demand will open the door to misleading marketing practices, speculation, and food fraud.
With this in mind, we wish you, your teams, and your families Happy Holidays and peace, health, and prosperity for 2023, and we thank you for all your support this year.
Sources:
International Olive Council
Olive Oil times
Back to blog