18/09/23 • 12:31
By Franziska Finck September 18, 2023
WHAT'S HAPPENING THIS MONTH
August is traditionally a slow month for markets and trading in Europe, with most local businesses shutting down for the summer break.
The Olive Oil sector makes no exception, with few operations recorded in Spain due to the minimal remaining volumes available for purchase and the steadily rising costs across all producing countries.
Flash floods, human-caused fires, and wildfires in Greece, exacerbated by a long dry season, caused several deaths and environmental and material damage in vast areas of the country, affecting the Olive Oil sector as well.
The long-awaited rain finally arrived in Spain in September, with some optimism over more precipitation soon.
MARKET OVERVIEW FOR EVOO
Poolred, a well-known Spanish trade organization, recorded an average market price of 7.47 Eu/Kg for Extra Virgin Olive Oil in July and an average of 8.18 Eu/Kg in August. In September, prices reached 8.42 Eu/Kg, an 11% increase in only two months.
ISMEA, the Italian agency responsible for monitoring agricultural markets and trends, shows a similar increase: the average price for Italian Extra Virgin Oil in July was 8.03 Eu/Kg, increased in August to an average price of 8.96 Eu/Kg and trading in September at 9.11 Eu/Kg.
These numbers help us to understand general price trends without fully capturing the differences between different quality grades, categories, and quantities.Operators and companies looking for pesticide-free, traceable, and higher-quality EVOO face even higher costs.
Our sourcing team observed transactions for Spanish Evoo ranging from 8.50 to 9.00 Eu/Kg and up to 9.50 Eu/Kg for Italian conventional Evoo. Tunisian producers and traders are offering Evoo at approximately 8.00 Eu/Kg for conventional grades and 8.40 Eu/Kg for certified organic. Greek market for conventional is 8.40 Eu/Kg and 8.90 Eu/Kg for organic.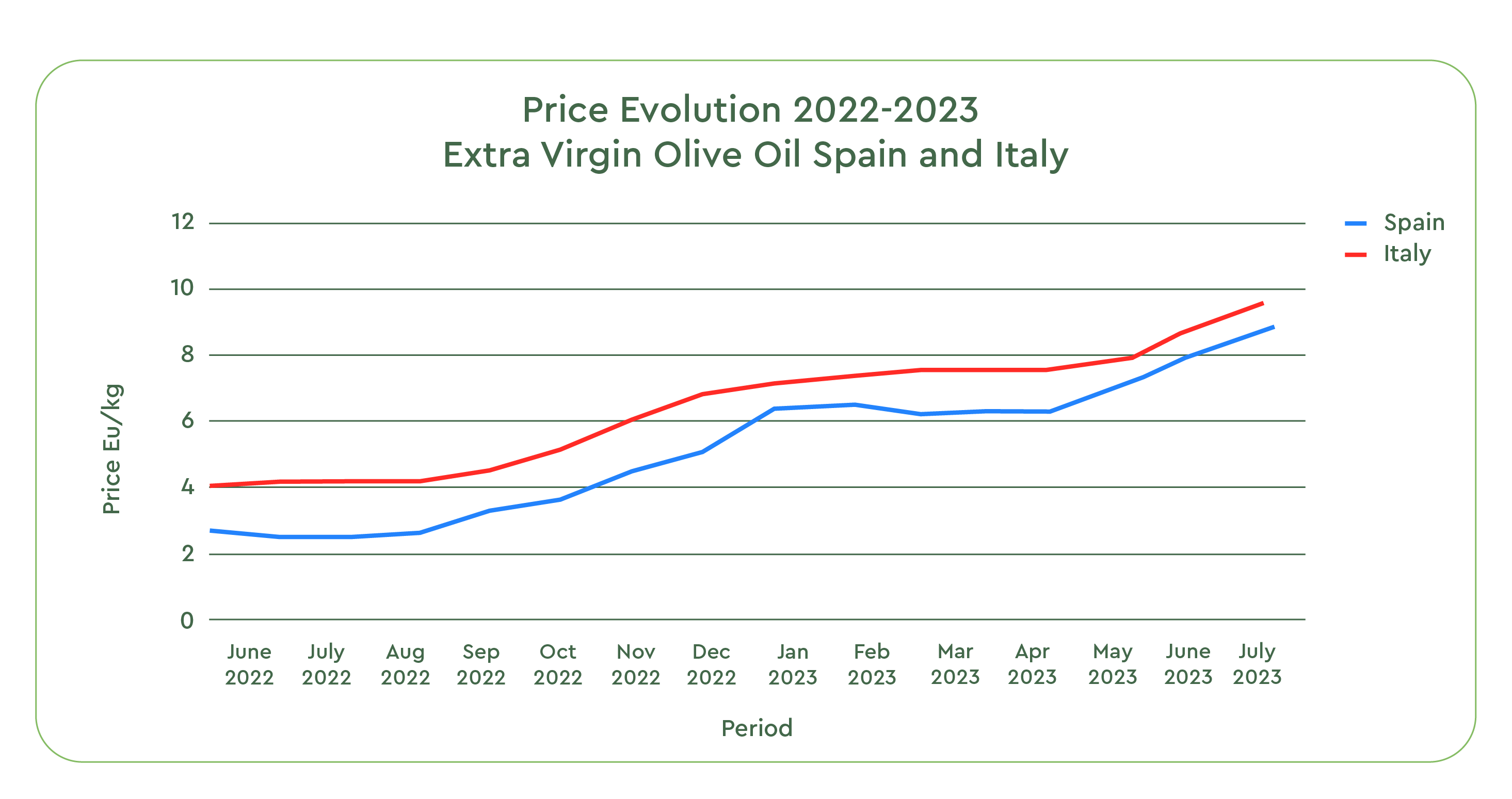 Sources: Poolred, Ismeamercati
RAIN AND DEPLETED RESERVES IN SPAIN
At the beginning of September, Spain was finally blessed with some rain, including the Andalusia area, Spain´s most significant production area for olive oil. The rain will alleviate the severe consequences of one of the most prolonged droughts experienced in the country's history. Still, farming experts warn that it will take months of light and consistent rain to fully recover the trees and crops in the heavily stressed olive groves.
The recently released figures from the Spanish Ministry of Olive Oil show that rising prices did not substantially reduce the demand for olive oil: 86,000 Tons were released for export and the national market in August. Considering these numbers, Spain now has a stock of 383,000 Tons of Olive Oil and Extra Virgin Olive Oil left, 60% of which is already in the hands of industrial packers and locked into contracts or sold.
With this low inventory, the Spanish market will remain tight for the coming weeks. The expected autumn rain will be decisive in influencing the 2023-24 harvest outputs. Spanish producers, traders, and cooperatives will likely wait for the most updated data on the new crop, stock, and sales before releasing their final reserves into the market.
NATURAL DISASTERS IN GREECE
Greece was particularly hit by natural disasters this summer:
The fires and floods in Greece have affected, among other regions, some of the most important olive plantations in Makri, home of over 200,000 olive trees. Situated in northeastern Greece, close to the Turkish border, the area is known for the olive variety Makri and for being a Protected Designation of Origin (PDO).
According to an article published by the Olive Oil Times, it is not yet possible to estimate the exact damage to the trees, some of which are over 1000 years old: without question, a cultural, natural, and historical loss for the region.
Luckily, other parts of Greece are experiencing milder rains, which the rich and diverse agricultural local economy urgently needs after a hot and dry summer.
Greece just had a record harvest, with 330,000 Tons, and expectations for the upcoming harvest are around 50% lower.
FINAL THOUGHTS
Climate uncertainty remains the main factor creating difficult market conditions and tension, exacerbated by extreme events like fires and flash floods.
Optimism comes from some meteorologists, expecting mild and constant precipitations in September and October in Europe, especially Spain. However, to what extent the rain will improve olive oil production volumes at this point in the year is still to be determined.
In countries like Spain, families are historically used to consuming large quantities of Evoo and Olive Oil, benefiting from extremely low prices from the local producers. Today's much higher shelf cost for this priced Oil is starting to slow domestic purchases and could open market opportunities for alternatives, such as seed and vegetable oils.
However, in large export markets like Japan, Korea, or the USA, the demand for Olive Oil is also driven by a higher spending customer base, choosing this ingredient for its known health benefits and with a lower consumption rate per person.
How different nations, population segments, and markets will react to the growing retail cost is yet to be seen. We may observe some transition patterns to other fats in some areas of the world, and we could also see families and individuals confirming their appreciation for Evoo, being ready to pay a premium for its health benefits and flavour.
Keeping an eye on each distinct sourcing area and avoiding generalization from one destination market or segment to another will be vital to avoid being caught in 2024 with too much stock at a high price point or insufficient inventory with fast-growing sales.
There is always room for opportunities in challenges: we recommend retailers, producers, and trade operators navigate this time of uncertainty together by staying in close communication and increasing information exchange among all parties.
Don't hesitate to reach out and talk with our team of experts and share any question or comment you may have.
SOURCES
Spanish Ministry of Agriculture
Olive Oil Times
Poolred
Ismea
–
ABOUT THE AUTHOR
Franziska Finck is a Sales Manager at a Certified Origins company. She is a German native who has lived in Spain for over 15 years. She vividly remembers being introduced to the world of Mediterranean products – immediately falling in love with their food culture. This led her to work in the food industry in international exports, bringing her passion and conviction for good, natural, and healthy food to the world.
Back to blog