20/01/23 • 9:30
Hashtag Research Strategy
Hashtags are an important factor in achieving a successful B2B social media presence that supports marketing's goals. It's all about getting viewers on your content and visual branding, which is more important than the number of followers you have.
Hashtags are the SEO of social media. They are how people outside of your direct network can find you organically. They are clickable ways for viewers to filter feeds around a topic they are interested in. Many platforms allow viewers to follow a hashtag as one would an individual or company, and there is compelling data that shows having a hashtag in your post can increase engagement twofold.
Dos
Create a list of hashtags that are brand-reinforcing and you'd like to be associated with.
Research hashtags on each platform separately, as each platform may have a different crowd using the same hashtag.
Check out your competitor's hashtags. No matter the size of your marketing budget compared to competition, you have an equal chance to show up and be seen.
Take advantage of trade show and conference hashtags, even if you aren't able to attend. If you know the audience is the right one for you, craft sensible posts that allow you to get in on the conversation before, during, and after the show.
 Jump on a hashtag trend… sparingly.
Don'ts
Hashtag general words or high-level industry names. These terms are too crowded and you will never be discovered. Instead, choose reasonable long tail keywords.
Litter your prose with hashtags so it hinders the ability to read fluidly.
Use more than 5 hashtags. A big block of hashtags makes you look cheap and desperate. Stay focused on your message and who you're trying to reach.
Try to create your own proprietary hashtags. This may work in a B2C context or on a personal feed when you're trying to be funny or ironic but in B2B, the main point of hashtags is to become discoverable, meaning people from outside click a hashtag in another post and find you.
Categories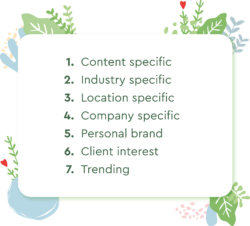 Hashtag considerations
We suggest using a mix of higher use and more niche hashtags, and hashtags specific to the post content in some of the categories previously mentioned (content, location, trending, etc.).
Back to blog