11/05/22 • 13:39
Welcome to the Olive Oil Monthly market update powered by Certified Origins.
We will provide you with relevant and transparent information on Extra Virgin Olive Oil (EVOO) and Olive Oil (OO) trends to help you navigate the market.
WHAT'S HAPPENING THIS MONTH
The geopolitical situation in Ukraine still impacts the availability and price developments regarding seed and refined oils. Portugal and Spain reported promising results for the 2021/2022 Extra Virgin Olive production and are investing to increase production. Turkey's ban on exports of Bulk Olive Oil could create some market shifts.
REFINED OIL MARKET
Russian – Ukraine conflict and its consequences in the oil sector
The scarcity of sunflower oil caused by the Russian – Ukraine conflict still affects the global market of vegetable and refined oils. Extra virgin and virgin olive oil prices fluctuation remain minimal. The value of some transactions recorded in March for seed and refined oils was close and, in some cases matched Extra Virgin Olive Oil.
TODAYs PRICES (range):
Refined sunflower oil € 2,75/2.80 €/kg
Refined olive pomace oil € 2,80 €/kg
Lampante olive oil € 3,30 €/kg
Refined olive oil € 3,65 €/kg
Virgin olive oils€ 3,65 €/kg
Extra virgin olive oils the Mediterranean Area between € 3,70 €/kg up to € 3,85 €/kg
Italian extra virgin olive oils between € 4,50 €/kg up to € 4,60 €/kg
Volodymyr Zelensky, the Ukrainian president, has encouraged the farmers from regions less affected by the conflict to plant and farm as many sunflower seeds as possible to ensure the availability of the next crop. In Spain and the USA (California), farmers are increasing sunflower production to support global demand.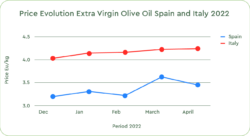 OLIVE OIL MARKET:
Current production and future forecast in Portugal and Spain
According to Olive Oil Times, the final balance of 2021/22 production in Portugal will reach 225 million liters. This record number results from favorable weather conditions and substantial investments in new high- and super-high-density olive plantations, especially in the Alentejo region.
Future projections of 200.000 Tons could make Portugal the world's fourth-largest exporter. An outstanding result for a country that used to have a high deficit in the production of olive oil only eight years ago.
Spain is currently the world's largest olive oil-producing country and keeps increasing the portion of agricultural land dedicated to Olive Oil production. The local Ministry of Agriculture, Fisheries, and Food reported 19,230 additional hectares of olive trees planted in 2021, a 0.7% growth compared with 2020. Of these groves, almost 93% will be committed to olive oil production.
These investments and trends for Olive Oil production in Spain and Portugal are good news for the oil and fats global market demand. The International Olive Council (IOC) recently reported a sharp increase in Olive Oil demand, possibly driven by home consumption, during these difficult years for the restaurant and hospitality sector still suffering from Covid restrictions. According to the IOC, global consumption could reach 3 215 000 tonnes in 2022.
TURKEY:
Export ban on bulk Olive Oil
The Turkish Ministry of Agriculture and Forestry has temporarily suspended direct exports of select agricultural products, including Olive Oil in bulk. This ban aims to stabilize the domestic market and to favor bottled oil exports. Major players in the Oil industry in Turkey have expressed strong concerns over this initiative, defining it as damaging for the whole sector.
FINAL THOUGHTS:
The market for EVOO is stable for now, thanks to the recent rain and favorable weather in Europe. The following months will be crucial to understanding the market trends for the rest of the year. Most European players wait for the blooming season before entering the market, as they hope for some rain during the spring period. If many companies will start purchasing large quantities of EVOO and other oils at the same time the market could react with a steep increase.
Overall we recommend caution in purchasing additional volumes and develop a strategy to increase your stock reserves to prepare for possible future disruptions. Reach out to talk with our team of sales experts, for any additional question, comment, or question you may have.
Sources:
Olive Oil Times
The Guardian
International Olive Oil Council
Volver al blog